Centre Facilities
Bar B. Q. area available for use at no additional cost but hirer must supply charcoal etc.
Downswood Community Centre capacities:
Main hall Lounge:
Closely seated audience: 200 100
Dancing: 140 70
Seated at tables and dancing: 110 55
Seated at tables: 90 50
(These capacities must not be exceeded)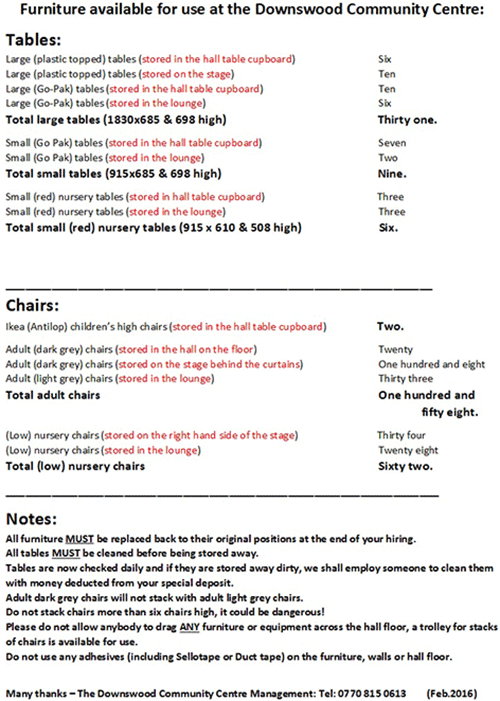 MAIN HALL
The main hall is approximately 15.5m x 10.5m and seats 200 persons. We currently have 25 large tables 180cm x 70cm, 4 small tables 90cm x 70cm, (low) nursery tables with 24 nursery chairs and 184 large chairs.

There is a fully usable stage area. The hall has direct access from the entrance hall, cloakroom, toilets, kitchen, storage areas, patio and play area. There is a badminton court marked on the floor and a serving hatch from the kitchen to the main hall.


LOUNGE
This comfortable room is 12m x 5.5m.The lounge is furnished with chairs and small tables and is partially carpeted. There is direct access from the entrance hall giving access to the cloakroom and toilets. There is also direct access from the lounge to the kitchen, patio and play area. There is digital TV available in the lounge and also a serving hatch to the kitchen.
Photos



KITCHEN
There is a good size (3.9 metres x 3.4 metres) adequately equipped kitchen which includes oven, hob, microwave, fridge, double sink, drainer and a boiling water dispenser. Large preparation units and cupboards are also available. The kitchen is equipped for catering, with pots, pans & crockery.
Photo



CLOAKROOM
There is a large cloakroom in the entrance hall area with a cupboard for hirer's cleaning utensils and equipment. Recyling boxes are stored here for hirer's use.



TOILETS


The Gents' toilets have two cubicles, three urinals, and three washbasins. The Ladies' toilet has four cubicles and three washbasins. Disabled facilities at the centre include a disability friendly toilet, washbasin & also baby-changing utilities (table & nappy disposable system).

STORAGE AREAS
There are two main storage rooms in the main hall with additional storage in the large under-stage storage area. Regular users are allocated storage space to suit their requirements. Special storage cupboards are incorporated under the front of the stage.



PATIO/DECKED AREA
Accessed from the main hall, the south patio area is next to the children's play area. The east patio has a large decked area and an attractive pergola.
Photos



PATIO/PLAY AREA/OPEN SPACE
There is a secure BBQ and an equipped children's play area to the south of the building accessed by the main hall, the lounge or the kitchen. There is a further large grassed area to the east of the building which is securely fenced and is suitable for general outdoor activities. Wildlife footpath for adults & supervised children. These facilities are available to hirers at no additional cost.
Photos


CAR PARK
There is a separate car park for the Community Centre and an overflow car park for large events across Chiltern Close, next to the medical centre.